ROBERT KELWAY SURVEYOR of WARDS and LIVERIES (c.1504-1581)
FAMILY
Robert Kelway lived through dangerous times. He was born about 1504 the son of Robert Kelway of New Sarum (a former mayor and MP) and grandson of Sir William Kellaway I of Rockbourne, Hampshire. Thus he served Henry VIII, Edward VI, Mary and Elizabeth I. We do not know his religion but his daughter Ann was a Protestant. However, his sister Alice was married to the Catholic William Gawen of Norrington.


The Coat of Arms above the Kelway Tomb
LEFT
The arms show Kelway/Kellaway, Romesey, Bissett and Unknown.

Romesey and Bissett arms come from the marriage of Thomas Kellaway to Joan Bingham 1412 who were Robert′s Great Great Grandparents. This last set of arms may be Bingham : Ermine on a chief azure 3 lions rampant or.
It appears to be: Ermine on a chief or three lions rampant azure. I can find no listing for this but it is easy to see how this mistake could have been made.

RIGHT
These are the arms for Harington impaled Kelway
(Robert′s daughter married John Harington). The Harington arms are in the 1st quarter.
On 20th Feb 1548/9 he married Lady Cecily Unton by Licence. She was the widow of Sir Alexander Unton (m.1533) by whom she had seven sons and two daughters. Lady Cecily Unton was formerly Cecily Bulstrode the daughter of Edward Bulstrode of Hedgerley. Robert and Cecily had only one daughter Ann born 1549. She married Sir John Harington about 1570.
On 6th Dec 1553 Robert obtained a lease for the Demesne Lands at Minster Lovell, Oxfordshire which had been granted to Cecily's first husband. In Dec 1556 he also obtained a lease for Coombe Abbey, Warwickshire with adjacent estates.
The Will of Robert Kellway is dated 6 July 1580 when he was about 76 years old, and probate was granted to his executors in June 1581. He describes himself as "of Stebimhaith" (Stepney), but apparently died in Exton, Rutland, (perhaps at the home of his daughter).
He was clearly a very wealthy man with "dwellinge howse(s)" in Warwickshire, Buckinghamshire, Berkshire, and in London at the Temple and in Fleet Street, and property and interests elsewhere. His first and largest monetary bequest was " ... unto my coosen ffrancis Kellwaye sonne and heire of Sir William Kellwaye knight deceased one Thowsannde Pounds ... " Additional family bequests included: ten pounds to Lady Kellwaye, late wife of Sir William, ten pounds to his Godson Edward Button and a horse/house? to his cousin Ambrose Kellwaye. He left one of his best horses or geldings to Sir Thomas Bromley, Lord Chancellor of England, and named him as one of four trusted friends appointed to be supervisors and overseers of his will. After a large number of specific bequests Robert Kellaway left the remainder of his estate to his daughter Anne, the wife of John Harrington.
The will also names nephews Robert and Peter South, sons of a half sister by his mother Alice Gover and her first husband John Byfleet, and nephew Thomas Gawen son of William Gawen Esq and his sister Alice.
The cousins named were his first cousins once removed.
Robert died 21 Feb 1580/1 and is buried in Exton Church, Rutland. The elaborate tomb was erected by the Harington family
| The Parish Church of Exton | The Kelway Tomb |
| --- | --- |
| Here lies Robert Keylway a distinguished esquire among civilians (whilst he lived), renowned for talent, learning and virtue, who loved retirement, lived as a Christian and died in the Lord on the 21st of February in the year of our Salvation, 1580, and the 84th year of his age. He left Anne his sole heiress and only dearly loved daughter married to John Harrington of Exton, Knt, whom he had always affectionately loved as a son and friend, by which Anne the said John had during the life of the aforesaid Robert two children, a son, Kelwey, who died Dec. 2nd, 1570, 21 weeks old, and lies buried here with his grandfather, and also a daughter Lucy still surviving, and may God grant her a long life. To pay, therefore, a just tribute to so dear and affectionate a parent and to leave to posterity an evidence of their deep gratitude, the said John and Anne have raised this monument and dedicated to their father, Keylwey, and their son Keylwey (to their lasting memory if it so please God) and design it, if God will, as a sepulchre for themselves also. | |
CAREER
Robert attended Oxford University and Kelway (or Keilway) became a member of the Inner Temple and acted for Edward Seymour, the Earl of Hertford in 1543. He was briefly MP for Salisbury before becoming MP and recorder for Bristol in 1545. Hertford may have played some part in his selection at Bristol and it was through his influence that Robert became "Surveyor of the Wards and Liveries".

Hertford was appointed 1st Duke of Somerset and shortly after on 31 Jan 1547 he became Lord Protector when Henry VIII died and his son Edward VI was a minor.

Kelway took on important roles in Parliament. In 1547 he was made Commissioner of the Peace in Southampton (Hampshire), Wiltshire, Somerset, Dorset, Devon, Cornwall and the City of Exeter; the whole of southwest England.

He and Sir Walter Mildmay were given the task of controlling the "Disposal of the Chantries′ wealth so as to prevent a breakdown of Education". He was involved in several land transactions and acted as a Trustee for Somerset and Sir John Thynne. In 1548 he approached Somerset on matters to do with Bristol and the visit of Lady Jane Grey.

In 1549 Robert was appointed for life as Keeper of the Rolls in Berkshire.

The arrest of Somerset in 1549 put him in some danger and he had to pay a bond of £100 to appear before Council weekly until discharged (in 1550). He was appointed Sergeant-at-Law in 1552, retained his surveyorship but gave up the post of Recorder for Bristol. He continued an active role and acted as Trustee for the Duke of Northumberland. In 1552 William Herbert, 1st Earl of Pembroke supported his request not to be burdened with service on commissions of peace.

Robert was less active during the reign of Queen Mary but retained his position and later served under Queen Elizabeth as MP for Steyning. He continued as an active member of Parliament where his knowledge and experience made him an invaluable member of Royal Commissions. He acted on many occasions for Queen Elizabeth until shortly before his death in Feb 1581.
ANN (KELWAY) HARINGTON (1549-1620)
Robert′s daughter Ann was born in 1549 probably in Minster Lovell, Oxfordshire. She married John Harington in about 1570. Ann was the sole heiress of Robert Kelway. Thus his lands went with Ann to her marriage after his death in 1581.

John Harrington and Ann had 4 children. Kelway died age 21 weeks on 2nd Dec 1570, Lucy Jan 1581, Frances 1586 and John 1592. Lucy married Edward Russell Third Earl of Bedford (see below), Frances married Sir Robert Chichester K.B. and had one daughter Ann who married Thomas Bruce, Lord Kinlosse, 1st Earl of Elgin on 4th July 1622. Their son Robert succeeded his father in 1663. Ann Bruce died in childbirth 20 March 1627 aged 21.

When James I became king in 1603 daughter Lucy Harrington rode to Berwick to be one of the first ladies to greet Queen Ann. This greatly enhanced her standing and that of her family as Lucy soon became a trusted member of the queen's household.

John Harrington was created 1st Baron John Harington on 21st July 1603. On 19th Oct 1603 John Harington was made guardian to the Princess Elizabeth, eldest daughter of James 1 of England and his wife Ann of Denmark. The household of the Princess was established at Coombe Abbey, Warwickshire a property which Ann had inherited from her father Robert Kelway in 1581.
| Ann Harington | Ann Harington from The Kelway Tomb |
| --- | --- |
| | |
| Notice the Harington Kelway Arms on the cushion | Statue on the Kelway Tomb |


John and Ann Harington remained guardians to the Princess Elizabeth until her marriage to Frederick V, Elector Paletine in 1613. The guardianship placed huge pressure on the finances of the couple and by the marriage they were deeply in debt despite an annual income of about £6000 they owed at least £30,000. The king had initially granted them £1500 per annum to pay for Elizabeth′s education and expenses but this was inadequate and a further grant of £1000 was made.

Lord Harington paid for all the bridal equipments, and was some £3,500 out of pocket. The King was unable, or unwilling, to reimburse him, and so, instead, granted him, on the 19th May 1613, a Royal Patent to coin brass farthing tokens which were to be valid throughout the realm.

The Haringtons accompanied Elizabeth to Heidelberg on her marriage and spent 4 months abroad but on the return journey John Harington died of a fever at Worms 23 Aug 1613. Ann brought his body back to Exton for burial but then returned to the Palatinate and served for a time as a lady-in waiting to Elizabeth, "The Winter Queen". Ann died 25th May 1620.

The heir Baron John Harington II was forced to sell the estates at Exton to pay the debts but he himself died of smallpox shortly after in 1614 without issue. The title went to a cousin Francis. Daughters Lucy and Frances became the co-heirs. Lucy gained the property of Coombe Abbey from her parents.
LUCY (HARRINGTON) RUSSELL, COUNTESS OF BEDFORD (1581-1627)
Lucy Harrington was born in 1581 at Coombe Abbey, Warwickshire. She received a "man′s education" was knowledgeable in literature, the arts and languages. At 13, on 12 Dec 1594 she was married to Edward Russell Third Earl of Bedford. He was aged almost 22 years (b.20 Dec 1572). Lucy brought the estate of Minster Lovell and a dowry of £3000 to the marriage.

Russell lands included Chenies Manor, Woburn Abbey and The More. The couple led an extravagant lifestyle at Chenies and at court and began to mount up debts.
Chenies Manor 2015
Lucy had a major influence on the original design of the beautiful gardens at Chenies Manor


In 1601 Edward Russell made the grave mistake of supporting the "Essex Rebellion" against Queen Elizabeth 1 and was lucky to keep his head. He was, however, briefly imprisoned and forced to pay a fine of £10,000 which virtually bankrupted the couple.

Edward was later thrown against a tree in a riding accident, after which he became a virtual invalid and lived at Moor Park until his death on 3rd May 1627. He was buried at Chenies 11 May 1627.

After this accident Lucy was able to live as she pleased at court.
Edward Russell 3rd Earl of Bedford
The Bedford Chapel at St Michael′s Church, Chenies
Edward Russell was buried in the Bedford Chapel seen on the left of the church tower


When Queen Elizabeth I died and James I was proclaimed King, Lucy raced on horseback to Berwick to be the first lady to greet Ann of Denmark wife of James I and to accompany her back to London. In this way Lucy became an important and trusted member of the Queen′s household and was given a position of Lady of the Bedchamber.

Her influence almost certainly ensured that her parents were made guardians to James I′s young daughter Princess Elizabeth. It also revived the fortunes of the Russell household.

Lucy was beautiful, young and intelligent. Her position at court was not without power and rewards. Lucy Russell, Countess of Bedford was renowned as a patron of poets, writers, artists and musicians including Ben Jonson, John Donne, Michael Drayton, Dowland and others. Many poets sang her praises in verse and it was rumoured she had an affair with John Donne before he was ordained in 1615.
Lucy Russell, Countess of Bedford
On Lucy, Countess of Bedford
Ben Jonson
THIS morning timely wrapt with holy fire,
I thought to form unto my zealous Muse,
What kind of creature I could most desire
To know, serve, and love, as Poets use.
I meant to make her fair, and free, and wise,
Of greatest blood, and yet more good than great;
I meant the day-star should not brighter rise,
Nor lend like influence from his lucent seat;
I meant she should be courteous, facile, sweet,
Hating that solemn vice of greatness, pride;
I meant each softest virtue there should meet,
Fit in that softer bosom to reside.
Only a learnèd, and a manly soul
I purposed her: that should with even powers,
The rock, the spindle, and the shears control
Of Destiny, and spin her own free hours.
Such when I meant to feign, and wished to see,
My Muse bade BEDFORD write, and that was she!



Lucy enjoyed writing herself. She also performed in, and helped to write and produce many of the Masques performed at the Court of Queen Ann. Thus she was a major influence on Jacobean arts.

Lucy also had a very keen interest in gardening. William Temple describes the garden at Moor Park as:

"The perfectest figure of a garden I ever saw, either at home or abroad, was that of Moor Park in Hertfordshire, when I knew it about thirty years ago. It was made by the Countess of Bedford, esteemed among the greatest wits of her time, and celebrated by Doctor Donne; and with very great care, excellent contrivance, and much cost; but greater sums may be thrown away without effect or honour."

In 1608 she purchased Twickenham Park a house with 87 acres of parkland near the River Thames. Here she created beautiful formal gardens much loved by Donne.

Gardens at Twickenham Park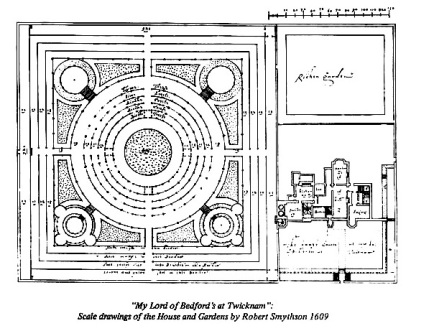 Lucy and Edward had two children Frederick, Lord Russell in 1602 who died at the age of 2 months and a daughter in 1610 who died after 2 hours.

Lucy was a trusted confident of Queen Ann and her daughter Elizabeth who married Frederick V, Elector Palatine in 1613 and left England for Heidelberg. Lucy even visited Elizabeth in the Hague in 1621 when she was in exile after her husband had been overthrown as King of Bohemia in 1620.

When Queen Ann died in 1619 her household was dissolved and Lucy was without a position and had large debts. Twickenham Park was sold and she appears to have retired to The Moor, Hertfordshire with her husband. She was forced, in 1622, to sell all her interests in Coombe Abbey and Smite. The buyer was Elizabeth, widow of Sir William Craven, who had been Lord Mayor of London in 1610–1611 and was one of the richest men of his day. The price was £36,000 and the contract was signed on the 24th of October 1622. It is unlikely this price covered all the debts.

Lucy died on 26th May 1627 within a few weeks of her husband. Lucy was just 46 years old and chose to be buried at Exton with the Harington family. She died "having no belongings".

Lucy Russell, Countess of Bedford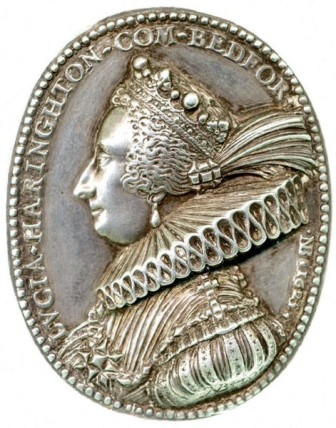 Portrait medal of Lucy Harington, Countess of Bedford, by Nicholas Briot,
oval cast and chased silver.
The FitzWilliam Museum Cambridge.