There was a Samuel Callaway transported to Australia in 1821 who was originally thought to be from St Endellion in Cornwall but this was discounted because the only Samuel b.1812 son of Richard married in 1841 also as son of Richard and died 1850 St Kew aged 38.
The records of the transported Samuel were as follows:
Samuel Callaway, Cornwall. Transported July 1821, 7 years, Ship Hindostan. Free by Servitude Dec 1828. m.Ellen Wall 1830 Windsor, NSW.
Another record suggested he may have been from the Bristol Area:
Samuel Calloway, aged 19, was convicted of Felony at Bristol on 08 Jan 1821 and received a sentence of 7 years. He arrived at the prison hulk ship "York" moored at Portsmouth on 14 Jun 1821 and was sent to New South Wales on 13 Jul 1821.
Prison Hulk Ship York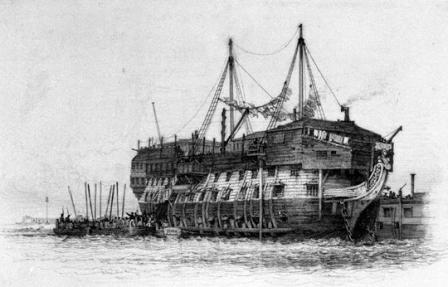 HMS York shown as a Prison-ship at Portsmouth
by E W Cooke, 1829
Samuel has now been identified from his family grave in the Wesleyan Cemetery of Windsor, NSW as the son of Joseph and Mary Ann (Lacon) Callaway bap.27.06.1801 Bristol UK.
His Family Tree and photographs of the grave are given below

	JOHN CALLAWAY				&	??	Bristol
	Ann				06.02.1725
	Elizabeth			30.05.1732
	Joseph 				02.03.1734			m.Hannah Burnall 24.10.1768

	JOSEPH CALLOWAY				&	HANNAH BURNALL m.24.10.1768 Bristol				Gunsmith
	d.1777 Will					d.before 1775
	Hannah				23.08.1769 d.
	Joseph				08.09.1771			m.Mary Ann Lacon 26.08.1800
	Samuel				11.04.1773 d.

	JOSEPH CALLOWAY				&	MARY ANN LACON m.26.08.1800 St Paul′s Bristol		Confectioner			
	Samuel Lacon			27.06.1801 			Transported to NSW 1821		m.Ellen Wall 05.11.1830 Windsor NSW
	Josiah				05.03.1803			m.?Harriott Chaplin 07.05.1826 St Pancras?
	David Brainerd			30.05.1804 d.15.10.1808

	SAMUEL LACON CHILDE CALLAWAY	&	ELLEN WALL m.05.11.1830 Windsor NSW		Constable Windsor NSW, Auctioneer
	d.27.08.1852 Windsor NSW		d.24.06.1883 Windsor NSW
	Julia Lacon		14.03.1832 Windsor, NSW		m.John C Brandon 25.01.1864 Sydney		d.1874 Sydney
	Mary Ann Childe		04.10.1836 Windsor d.02.08.1854 
	William Joseph		22.11.1840 Windsor		m.?Blanche Dearman 1887 Sydney
	Ellen Wall		12.08.1844   Windsor d.30.09.1879
	Emily Ann			1847			m.Julius Becker 06.04.1876 Sydney 		d.1924 Parramatta
	Rachel Margaret		14.01.1852			m.Charles Pitt Ionn 23.03.1875 Sydney		d.17.06.1907 Sydney

Samuel was killed in a riding accident in 1852.
Maitland Mercury Sat 4 Sep 1852 p. 2
Fatal Accident. - On Friday evening last, at about half past five o′clock p.m., Mr Samuel Callaway, of this town, auctioneer, was passing up the Punt–hill on horseback, when the animal he was riding shied and caused him to drop his reign, and, in endeavouring to keep his seat, to stick his spurs into her sides: this caused her to bunk–jump, and in doing so to throw the unfortunate gentleman heavily upon his head, he was picked up insensible, and conveyed to Mr. T. Fisher′s Royal Oak Inn, where he expired at about ten the same evening. An inquest was held on the body on Saturday, and a verdict returned that the deceased met his death by a fall from a horse – Herald Windsor Correspondent.