We can begin the story of Amos′ ancestors in the Dorset village of Godmanstone just north of Dorchester. It was a rural community and was heavily dependent on farming.



The Smith′s Arms, Godmanstone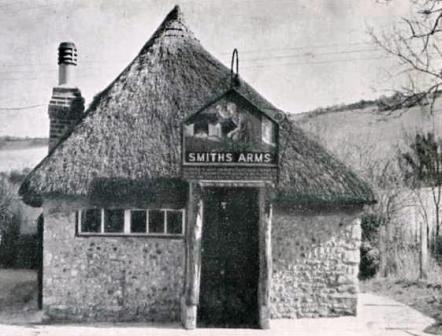 The Smallest Pub in England
In 1759 John Kellaway married Mary Dennis1 and subsequently they had five known children four daughters, Betty 1760, Mary 1762, Sarah 1770, Ann 1774, and a son John 1777 who died when just a few days old1. John was a blacksmith and signed his name on marriage so he was probably, therefore, better off and better educated than many of his neighbours. There is no further documentation to give additional information on his life.
In 1787 John′s daughter Sarah gave birth to an illegitimate son Charles Kellaway who was baptised in Godmanstone on 11 November 17871. Sarah was just seventeen years old. We do not know if Charles was raised by his mother or grandfather nor who his father was. His mother does not appear to have later married locally.
Charles Kellaway 1787 married Joanna Holland in Corfe Castle on 06 June 18081 when they were described as both "of this parish". He appears to have been a shepherd and agricultural labourer and as such moved around the parishes of the Corfe Castle and Worth Matravers area. They had a large family (twelve children) George bp.1810 and James bp.1812 both in Worth Matravers1 then Elizabeth b.1814 but no baptism until 1821 Woodsford, Mary Ann bp.18151 Winfrith Newburg, followed by Charles b.1817, Priscilla b.1819 and Susannah b.18212 with no baptism found, then John bp.1822 West Knighton, Richard bp.1824 Alton Pancras1, and finally Ellen bp.1826 and Hannah bp.1828 both in Cerne Abbas1.
At this point things seem to have gone very wrong for the family. It was a time of extreme poverty in the rural community due to bad harvests and rising prices. The family became "dependent on the parish" in Cerne Abbas in 1829. They were then subject to a Removal Order for the whole family from Cerne Abbas to East Lulworth 06 May 18293. East Lulworth appealed4 but the order was confirmed 14 July 1829. The names and ages of the children are all listed with the exception of Elizabeth. So where was she? It seems most likely that she was "In Service" as she was by then 15 years old.
It is surprising that the removal order was to East Lulworth. Charles was born in Godmanstone and his children in various parishes around East Lulworth so it is difficult to see why that destination was decided upon. However, The Shoemaker′s Diary5 records: "Dairyman Kellaway brought home to Lulworth from Cerne Abbas near Dorchester on the 18th May 1829 and staid at Hunt Public House 2 days".
In 1828 and 1833 one Sarah Kellaway had illegitimate children Elizabeth and Ann baptised in Cerne Abbas1. Josiah Westlake of Martock, Somerset was issued with a Bastardy Order after the first child but after the second Sarah was subject to a removal order returning her to Godmanstone6. However, the 1841 census shows her living in Cerne Abbas and that this Sarah was between 30-34 (b.1807-11)2. She was living with her two young daughters and an Elizabeth Kellaway aged 80-84. (b.1758-1761) No baptism has been found for this younger Sarah and there is not necessarily any link between these two families. Godmanstone records are not readily available but it is possible she was another daughter of Charles 1787 born before George 1810. The elderly Elizabeth Kellaway in the census might be her aunt Betty baptised 1760 and the sister of the earlier Sarah, Charles′ mother.
Returning to East Lulworth, The Shoemaker′s Diary5 tells us that there was considerable unrest in England during 1830/31 due to high food prices and low wages. Indeed there were strikes in the East Lulworth area and corn was burned. The local men did, however get their pay rise "from 6 to 8 per week" That was probably in shillings the equivalent to 30p – 40p; quite a contrast to the solicitor′s bill for the East Lulworth removal appeal which was £25.16s.8d enough to keep Charles Kellaway′s family for more than a year7.
On 06 January 1831 Charles′ eldest son George Kellaway married Jeane Runyard in East Lulworth1. The shoemaker5 records him as of Cerne. A few months later on 13 July 1831 their first son Robert Kellaway was baptised in Church Knowle1. The family were subject to a Removal Order to Cerne Abbas on 22 Jan 1831. They did return to Cerne Abbas where they had seven more children before George died in 1849 aged 39 years.
So now we come to the birth of Amos Kellaway. On Christmas day 25 December 1831 in East Lulworth Amos Kellaway was baptised, son of Elizabeth Kellaway a spinster1. We can only speculate as to what had happened here. As said before she was probably in service somewhere and if found to be pregnant she would have been dismissed immediately and sent home. Elizabeth was 17 years old. We have no clue to the father. No action was brought against the father so it remains a mystery. The choice of name for her son is odd, however, it is the first time Amos is used in a Kellaway family and is generally an unusual name although there are several instances of its use in the area as both a forename and surname.
St Andrew′s Church, East Lulworth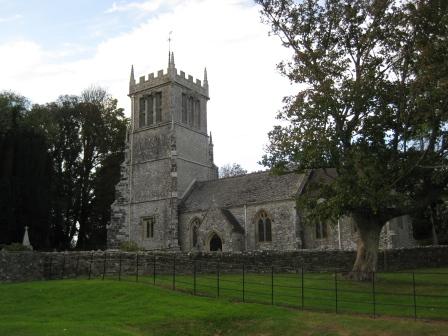 With thanks to Jo Foster for use of this photograph
We know no more of the family until the 1841 census by which time Charles and Johanna were living at Crop Barn, Bradford Peverell. Charles was a Shepherd. With them were their children Charles, 25 shepherd, John 18 agricultural labourer, Richard 17 agricultural labourer, Elizabeth 27, Susanna 20, Ellen 15, Hanna 13 and Amos was also there aged 9. No relationships are listed in the 1841 census2.
Three years later on 24 August 1844 Elizabeth′s brother Charles Kellaway died of consumption at Newbarn aged 261. He was buried in East Lulworth 28 August 1844, age 271. On 17 June 1846 Elizabeth′s sister Ellen married Thomas Charles in East Lulworth1.
When Amos Kellaway was seventeen years old he enlisted on HMS Daphne. His life in the Royal Navy began on 15 September 1848 when he joined as a Boy 2nd Class8.
We have some brief details of where Daphne was operating at this time. She was a wooden sailing ship of 726 tons, she carried 18 guns, and was commanded at this time by Captain Edward G Fanshawe. In January 1848 she was at Chatham but for the next five years she was in the Pacific and along the South American coast. She visited the Pitcairn Islands in August 1849 taking a bull, a cow and rabbits to the islanders from Valparaiso. Daphne left there for Tahiti9 so Amos certainly was seeing the world.
Amos became a Boy 1st Class in 1850, then Ordinary Seaman in 1851. At the beginning of April 1852 he was a Steward. His conduct was described as very good throughout his service on Daphne8. He was discharged from Daphne on 14 August 1852 and enlisted on the iron, screw gunship HMS Sharpshooter on 04 October 18528 which was operating on the east coast of South America. He remained on this ship until 14 July 1855 when he was "Invalided and sent to Vixen for passage home"8. No details are given of his injury or illness and his conduct was again very good.
He clearly recovered fully as by November 1855 he was back in England and living in London. It seems he had a "girl back home" because Jane Smith b.16 December 1832 Worth Matravers to Samuel and Mary Smith1 was also living in London. A journey up from Dorset would have been easier by that date as the railway reached Swanage in 1845.
On 04 November 1855 Amos Kellaway and Jane Smith were married at the Chapel of St Gabriel′s in Pimlico. Amos stated he was a cheesemonger and gave his father as Charles Kellaway10. It is not possible to discover if this was a convenient lie or whether this is the way he was brought up as one of Charles′ children and did not know the truth. Amos was living at 104 Lupus Street, Jane at 74 Lupus Street and the marriage was by Banns.
Not long after the marriage Amos enlisted again this time on the wooden, steam screw, corvette HMS Plyades on 13 February 185611 by which time Jane was pregnant. She returned to Dorset where Alfred Charles Kellaway was born on 23 September 1856 in Swanage12. Father: Amos Kellaway, a steward HMS Plyades and Mother: Jane née Smith. Jane signed with her mark. Alfred was baptised privately 22 October 1856 and received into the Church on 30 November. At the baptism Amos was described as a labourer and their address was Herston now a western suburb of Swanage. The vicar was D Travers1. On 18 November 1856 Amos was discharged from Plyades. He had been a Gun Room Steward. For once his conduct was not described as V Good. The word used is unclear but appears to be "Indiff"11. What had he done?
On the 03 January 1857 Amos enlisted again. This time it was HMS Iris a wooden, sailing frigate launched in 1840. The ship was 906 tons carrying 26 guns. The Captain was William Loring.
The HMS Iris Description Book13 lists Amos′ previous career details as previously stated and his conduct for Plyades was "Good with one exception when he brought spirits onto the ship". Perhaps he was celebrating the birth of Alfred, the timing would be right for this!
Amos was now a Sub Officer′s Steward. The ship left Plymouth in March and sailed to Rio de Janeiro arriving in April. She left there in May 1857 and arrived at The Cape of Good Hope leaving 5 days later on 30 May for Sydney arriving there 29 October 185714.
This is where our story takes a sudden twist; because on 19 November 1857 Amos Kellaway deserted his ship at Sydney. He was 26 years old, 5′ 6", brown hair, hazel eyes born Coombe15. Where he went and why he deserted we can never be certain, perhaps it was the lure of the gold rush (although this had all but ended by 1857), or just the chance of a better life in a new country. He was never caught. HMS Iris departed without him on 27 November 185714.
Meanwhile back in England Amos′ Grandmother Johanna had died in 1853 and his grandfather Charles died in Swanage on 17 June 18591 he was 72 years old.
In the 1861 census we find Jane Kellaway age 28 working as a Cook in the Rectory next to St Mary′s Church. The head of household was Robert D Travers, Rector of Swanage and probably the vicar who baptised her son Alfred Charles, who was not living with her2. A search for Alfred revealed him listed as Charles Alfred aged 4. He was living as a boarder in the house of a fisherman Thomas Weeks and his wife Sarah2. Sarah was born in Worth Matravers and she was, in fact, Jane′s sister who married Thomas Weeks on 09 November 1849 as the widow of Charles Bridle. Jane was a witness. All signed.
So was that it, family deserted? No indeed, whatever Amos got up to in the first six years of his life in Australia it seems he was now working in Victoria and had enough money to support his family who took passage on the Ship Istanboul departing London 21 February 1863, via Plymouth on 04 March 1863 arriving Hobson′s Bay, Melbourne on 08 June 186316.
We even have a photograph of the "Family Arrival in Australia".
THE FAMILY ARRIVAL 1863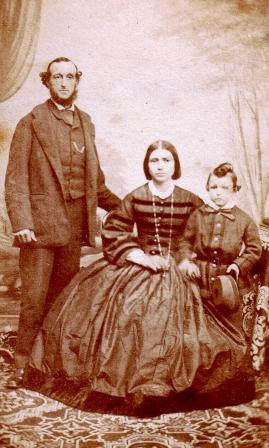 With thanks to the Kellaway family for
use of this photograph
Initially the family appear to have lived in a small settlement about 150 miles north of Melbourne called Durham Ox. It was here that their next child Louisa Johanna was born on 05 May 186417. Probably still fearful of the authorities Amos gave his place of birth as London and Jane gave hers as Pimlico which would appear correct from their marriage certificate. Amos was a labourer. Over the next ten years four more children were born in Victoria. Mary Ann b.30 July 1866, Eleanor Jane b.20 July 1869, Amos Owen b.11 June 1872 and Susan b.04 December 187418. By 1972 they were living in Oakleigh, now a Melbourne suburb.
Sadly Jane died at North Boundary Road, Mulgrave, Melbourne on 20 February 1884 aged 51. She had been suffering from Phthisis (TB) and Exhaustion and had been ill for two years. The informant was her son Alfred Charles and all details of birthplace and parents were given correctly. She was buried in Burwood Cemetery on 22 February 188419.
Jane Kellaway Headstone Also her son Alfred Charles and his wife Annie
and her daughters Mary Ann and Susan
SACRED
To the memory of
Jane Kellaway
Who died February 20th 1884,
Aged 51 years
Her children arise up and call her
Blessed her husband also and he praiseth her.
Also Annie Carrick
Dearly beloved wife of
Rev. A.C. Kellaway
Died 20th Jan 1924,
Aged 60 years
Redeemed with the precious
Blood of Christ.
Also
Alfred Charles Kellaway
Died 21st January 1930,
Aged 73 years
He giveth his beloved sleep
And also Mary Ann and Susan
daughters of Amos & Jane 1940
Burwood Cemetery, Melbourne.
With thanks to Mathew T. George for this photograph.


Amos made sure that his sons had a good education.

Alfred first became a state school teacher and then earned an honours degree in history at Melbourne University. He entered the Anglican Church and served at St James Cathedral in the Diocese of Melbourne before settling in the Melbourne suburb of Northcote, where he was vicar of All Saints Church for 30 years. He was a member of the founding committee for Ridley College, a College now within the University of Melbourne. There was already an Anglican training college, Trinity College, also within the University but Ridley College was founded for ministry training with an evangelical purpose.

Alfred Charles married Annie Carrick Halliley Roberts on 12 October 1886 at St James Church, Melbourne20. She was a highly religious lady who was born 1854 in Tasmania, They had five children, Gwendoline Jane b.19 August 1887, Charles Halliley b.16 January 1889, Annie Kathleen b.01 August 1890, Frank Gerald b.09 January 1895 and John Carrick b.10 February 1897 who all had a good education. Among them the eldest, Gwen, became a much respected missionary. She served for 35 years in the Kerala region of southern India. The eldest son Charles Halliley Kellaway had a distinguished medical career in both Australia and England. Alfred Charles Kellaway died 21 January 1930 Melbourne 19.

Amos Owen married Leah Victoria A Browne 31 March 1896 in Melbourne. They had seven children three of whom died young. The other children were Lucy Doris b.16 February 1898, Richard Walter H. b.22 October 1903, Aileen Louisa V. b.11 October 1905 and Phyllis Seymour b.01 June 1907. Amos Owen Kellaway died 27 October 1957 Melbourne.18

So what of Amos himself? He became a farmer and had a farm called "Tally Ho" in Hepburn, Victoria. He lived to be 87 years old and died on 28 January 1919 in Hepburn Springs Victoria. He was suffering from senile debility and chronic bronchitis. He was described as a retired farmer who had been in Victoria 60 years. The informant was Kora McKinnon friend of the deceased. Amos′ father′s name was given as Charles Kellaway and mother′s name was Not Known, birthplace was Dorsetshire. Marriage details were correct as St Gabriel′s Church, London when 23 years old, wife Jane Smith. His children were listed, only Louisa Johanna had pre-deceased him. Amos was buried on 29 January 1919 at Daylesford Cemetery19.
AMOS KELLAWAY
Amos Kellaway Grave, Daylesford, Victoria
With thanks to the Kellaway family for
use of this photograph
With Thanks to Alma Ryrie – Jones and Daylesford Historical Society for these photographs


Amos left a Will dated 02 August 1911 in which he left his estate to be equally divided between his three unmarried daughters Mary Ann, Eleanor Jane and Susan. Alfred Charles of Northcote and Amos Owen of Tantaraboo were joint executors. Probate was grated to Alfred Charles Kellaway on 27 February 191921.

Amos Kellaway made a new better life for himself, his family and descendents. The only person forgotten in all this was his mother. What happened to Elizabeth Kellaway? Did Amos ever know she was his mother?

Charles and most of his family appear to be missing from the 1851 census but it seems most likely that Elizabeth was the Elizabeth Kellaway daughter of Charles who married a widower Charles Runyard on 24 March 1851 in Swanage1. Although the wedding certificate describes Charles Runyard as a Bachelor it is clear from the 1851 and 1861 census2 and earlier marriage records1 that he had married Martha Ricketts in 1839. Martha died early in 1850. Charles Runyard was a carpenter.

Elizabeth and Charles had two daughters: Mary bp.04 January 1852 Wool, and Martha bp.01 April 1854 East Lulworth who died 18561. Mary Runyard married Samuel Churchill on 11 May 1881 West Lulworth1 and her parents were living with them in 18912. Both Charles and Elizabeth Runyard died in 1892. Elizabeth was 78 years old1.